Jules' Undersea Lodge
is happy to announce the reopening of our world famous lodge.
We will be taking reservations starting in May, 2021.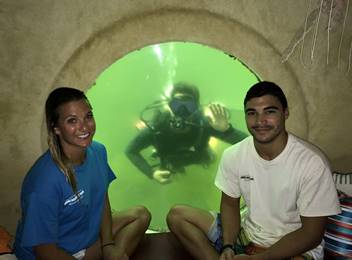 Jules' Undersea Luxury Package:
Jules' guests will check-in at the front office and meet your Mission Director.  After a quick bit of paperwork and giving us your pizza order, you will have a top side orientation tour with your M.D.   You will then prepare your personal items for transport and gear will be issued.  Since we have WiFi we are happy to take down your cell phone or tablet to the lodge.  It's fun to zoom and share your experience with family and friends.  Those who are certified divers will be able to dive the lagoon and then meet the M.D. inside the lodge where you'll be introduced to our communication system and safety protocol.
The lodge is stocked with plenty of water, soda and ice tea.  Snacks are down there too.  (Please inform us of any allergies when you make your reservation.)
Check-in is 1:30 pm and check-out is 9:00 am.  Your pizza delivery dinner will be delivered between 5:30 – 6:00pm.
Prices for certified divers:  Includes 12.5% lodging/sales tax
Single occupancy:  $900.00
Per couple:  $1,350.00
Four guests:  $2,250.00
Six guests:  $3,487.50.
No certified?  Our Discover Scuba Diving course is easy and fun.   Your DSD course is $125.00 per person and includes sales tax of 7.5%
The World Famous "Aquanaut Package"
In honor of our work with the Astronauts throughout the years we developed the 24 hour Aquanaut Package.  The Aquanaut Package includes all the JUL's Package has to offer plus a nice lunch from the Hideout restaurant next door and a PADI Specialty certification card to add to your diving credentials.   Not many can say they have the Jules' Aquanaut Specialty PADI card.
Prices for certified diver:  Includes 12.5% lodging/sales tax
Single occupancy:  $1,125.00
Per Couple:  $2,025.00
Four guests: $3,600.00
Your Pizza Is Here!!!
Jules' is offering our Pizza delivery lunches for those divers who can't stay overnight but would like to enjoy the undersea lodge atmosphere.
Two person minimum
$380.00 a couple taxes included
Check-in: 10:30 am
Check-out 2:30 pm