Distinctive Specialties
These PADI specialities are ONLY available at Key Largo Undersea Park!
JULES' HABITAT INNERSPACE DIVER SPECIALTY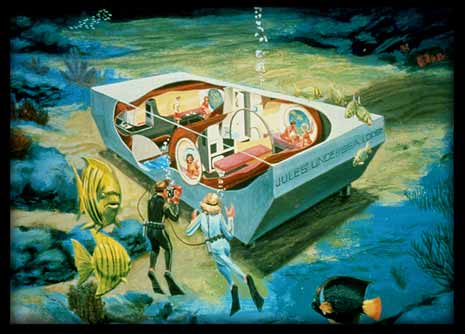 Jules' Undersea Lodge is happy to introduce our newest underwater specialty "The InnerSpace Diver Specialty".  This is the first specialty offered where an overnight stay is not a prerequisite.  However, your lesson will be conducted from Jules' Lodge.
Course Philosophy – To introduce the student to some of the training astronauts experience while in an underwater environment.  The effects of gravity and the lack of it in outer space, and techniques for working in outer space.
Goals:
1.   Understanding the relationship between Astronauts and Aquanauts.
2.   Developing neutral buoyancy skills.
3.   Enable planning and executing tasks underwater safely.
The InnerSpace Specialty will be a one day course with a lunch break.  You will need to bring a set of dry clothes to change into while in the lodge.  Cost for the InnerSpace Specialty is $395.00 per person.   For those who plan an overnight stay with us your cost is $295.00.
THE HABITAT SPECIALTY PROGRAM
Jules' Habitat Specialty covers the history of Marine Habitats and their many uses for Marine Exploration.  The advantages and disadvantages of different structures and life support logistics and techniques to provide electric power, water, food and atmosphere regeneration are also examined.  This course is an academic course given to you by our Mission Director while you are staying in the lodge.   Please sign up when you make your reservation.  Cost per person is $95.00.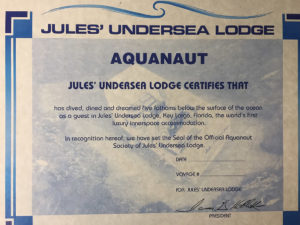 THE AQUANAUT SPECIALTY PROGRAM
The Aquanaut Program is a 24 hour stay in the lodge combined with three lagoon dives.  Upon arrival, you will receive a systems briefing on both the lodge and its topside support systems by an experienced Aquanaut.  A Jules' Undersea Lodge Aquanaut Certificate suitable for framing will be provided upon completion along with the PADI Aquanaut Specialty.
Please book at least 1 month in advance.
Price: The Aquanaut Specialty Program is $825.00 per person per night BASED ON DOUBLE OCCUPANCY and $950 per person FOR SINGLE OCCUPANCY. All dive gear along with dinner, lunch and breakfast are included with your program.  The Aquanaut Program starts at 1:00 pm and ends at 1:00 pm the following day.  Taxes not included.
Please book at least 1 month in advance.