Dear Dive Shops,

We at Key Largo Undersea Park, Inc., KLUP, are hoping you and your staff have fared well through this pandemic.

As a result of the Covid-19 Pandemic, we, like a lot of other businesses have had to restructure and or reinvent ourselves. Here are some of the changes we have had to make.

A. KLUP will no longer be renting or loaning gear to outside shops or individual certified divers. Please make sure you have all the gear you'll need when you come. This includes scuba cylinder air fills, weights and BCD's.

B. On your proof of insurance policy please add Key Largo Undersea Park, Inc. and Marine Resources Development Foundation, Inc. as your additionally insured locations NOT Jules' Undersea Lodge. We would not be able to let you scuba in our lagoon if these entities' are not on your policy.

C. We will be doing extensive work on the undersea lodge so we will be asking you to NOT surface inside until work is completed.

D. Our hours of operation will be modified when the Keys have opened up to tourist.

E. KLUP always appreciates when you send divers and out of town shops our way that are not able to go to the ocean due to weather. In your information about us please let the dive shops know they must have the above mentioned names on their additionally insured liability policies. Individual divers will have to have a guide, Dive Master or Instructor, who is insured with our locations added to their policy.

We look forward to having you back again when a little "normalcy" comes our way. In the meantime please be safe. If you have any questions please call us.

Sincerely,
Teresa McKinna, Pres.
Key Largo Undersea Park, Inc.
51 Shoreland Dr.
Key Largo, Fl. 33037
305.451.2353
Everyone is charged tax of 7.5% unless you have documentation of being a non-profit organization.
Dive Professionals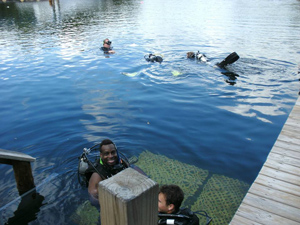 Dive professionals are welcome to use the Lagoon as part of their training plan and to incorporate Jules' into your dive plan! The lagoon can be used as either open or confined water for training purposes. The water is ALWAYS calm at Key Largo Undersea Park, never mind that it's blowing 20 kts offshore! Prices do not include sales tax.
Lagoon use:
| | |
| --- | --- |
| Day use | $35.00 |
| Dive Master in training | $25.00 |
INSTRUCTORS ONLY dive for FREE. Over 4 students you may have 1 Dive Master (does NOT apply for Night Dives).
Night Dives: 
All night dives are $45.00 per person with NO exceptions. Instructors pay $35.00. 2 student minimum – one dive. Night dives must be paid for in advance and scheduled in advance. Night dives are by appointment only.
Instructors:
You must bring with you… proof of current insurance, your instructor certification card and if you have any student under 18 they must have parent or guardian sign for them. If you are the guardian then you must show parental consent forms.
Tuesday Bad Weather Appointments
Hours are from 8 am to 12 pm
Jules' Lagoon offers appointments to dive on Tuesday to Instructors and Dive Shops.  You must make your appointment in advance not on the day.
Fees for Tuesday Appointments:

Instructor and One Student = $70.00 plus tax
Instructor and Two Students = $90.00 plus tax
Instructor and Three Students = $105.00 plus tax.  Instructor dives free.