Dive Professionals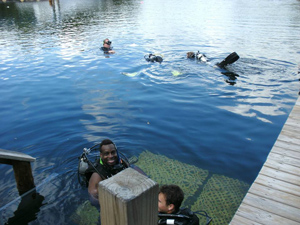 Dive professionals are welcome to use the Lagoon as part of their training plan and to incorporate Jules' into your dive plan! The lagoon can be used as either open or confined water for training purposes. The water is ALWAYS calm at Key Largo Undersea Park, never mind that it's blowing 20 kts offshore! Prices do not include sales tax.
Lagoon use:
| | |
| --- | --- |
| Day use | $35.00 |
| Dive Master in training | $25.00 |
INSTRUCTORS ONLY dive for FREE. Over 4 students you may have 1 Dive Master (does NOT apply for Night Dives).
Night Dives: 
All night dives are $45.00 per person with NO exceptions. Instructors pay $35.00. 2 student minimum – one dive. Night dives must be paid for in advance and scheduled in advance. Night dives are by appointment only.
Jules' Mini Adventure With Lunch: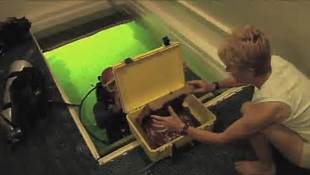 This is a great deal for our Dive Professionals.  Enjoy a three hour vacation/education visit to our undersea lodge with your students and have a pizza lunch from a local restaurant.   With a two person reservation the instructor goes for free.  Bring us four or more plus the instructor and get a 10% commission. $150 per person, includes lagoon fee, two person minimum plus instructor. Does not include dive gear. Reservations are required! Please call 305.451.2353 to inquire about availability.
Instructors:
You must bring with you… proof of current insurance, your instructor certification card and if you have any student under 18 they must have parent or guardian sign for them.  If you are the guardian then you must show parental consent forms.
Gear is available for rent! Prices do not include sales tax.
| | |
| --- | --- |
| Gear pack: BCD, regulator, tanks, weights/belt | $40.00 |
| Separately: | |
| Tank | $8.00 |
| Air Fill | $5.00 |
| Regulator | $15.00 |
| BCD | $15.00 |
| Weights and Belt | $5.00 |
| Mask/Snorkel | $5.00 |
| Fins | $5.00 |
| Wetsuit | $10.00 |