Key Largo Undersea Park
Home of  Jules' Undersea Lodge
Welcome to Jules' Undersea Lodge!
Discover A world-Famous Lodge & lagoon
Located in the lagoon at Key Largo Undersea Park, Jules' Undersea Lodge is the world's only underwater hotel where scuba diving is the only way to get to your room. In addition to overnight stays in the Lodge, the Park offers a great SCUBA training location in its Lagoon, with a depth of up to 30′ in a protected setting. Individuals can get Open Water certified here, do a Discover SCUBA Diving course, or just dive around in the lagoon.
Some of our distinguished visitors include Aerosmith's Steve Tyler, actor Tim Allen and former Canadian Prime Minister Pierre Trudeau! We've been featured in several magazines and broadcast shows, too.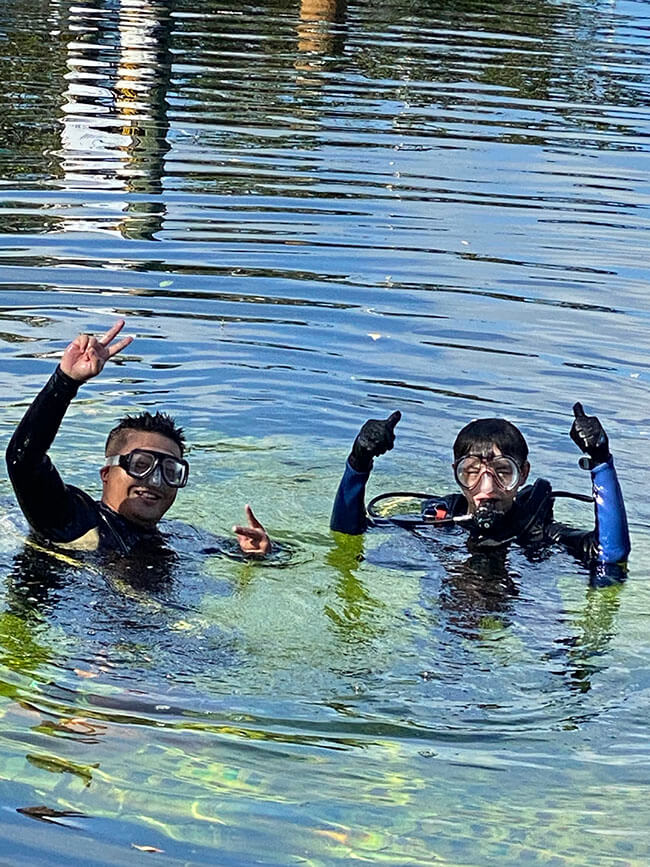 After you're done with your SCUBA skills, or if you are already SCUBA certified, you can visit Jules' Undersea Lodge for three hours or an overnight! Have lunch in the Lodge, do a three hour Mini Adventure, or sleep underwater! Distinctive PADI Specialities are available for overnight guests.
Check out the overview of the lagoon and underwater hotel by our local aspiring filmmaker Jules Powers!
We are proud to have Ocean First on our property! Ocean First has been a pioneer in the dive industry for over 15 years and they have brought that same level of progressive excellence to Key Largo Undersea Park. Whether learning to dive, continuing your education, or participating in one of their citizen science research projects, at Ocean First Key Largo you're bound to have an experience that lasts a lifetime. 
WANT TO SLEEP UNDERWATER?
WANT TO check out the lagoon?