Our Staff
Key Largo Undersea Park is very proud of its staff!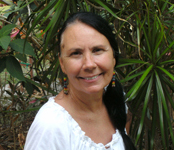 Teresa McKinna, Vice President/CFO
Teresa McKinna has been the Vice-President/Chief Financial Officer and primary manager of Jules' Undersea Lodge/Key Largo Undersea Park for the past fourteen years. With her hand-picked staff, she has guided this unique eco-tourism and educational business through the economic ups and downs of the new millennium with an unwavering commitment to safety and quality of the Jules' Undersea Lodge guest experience. An expert scuba and freediver herself, she combines that expertise with the skills of a personnel manager, accountant, salesperson, and business strategist to run one of the world's most unique and demanding hotels/dive operations with grace and efficiency. With husband John, she enjoys sailing, spearfishing, diving, and kayaking the waters of the Florida Keys whenever her always-busy work schedule permits.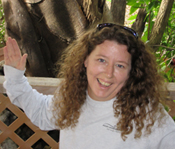 Sebrina Havens, Shop Manager
Sebrina Havens grew up around the Chesapeake Bay area where at a very young age she developed a lifelong passion for the water. She swam competitively for 12 years, participating in conventional and long-distance events. After graduating from Baltimore Culinary Institute she was employed as chef for the Harbor Branch Oceanographic 204′ research vessel "The Seward Johnson" located in Fort Pierce Florida. During her travels aboard ship she was able to fulfill many aspects of her ongoing interest in marine sciences.
In 2009 she and husband Richard and son Riky accepted the positions of caretakers on Broad Key, an off-grid private island near Key Largo, FL. They remained on Broad Key until the island was sold to the University of Miami, at which time the family returned to the Key Largo mainland.
Sebrina is currently shop manager of Jules' Undersea Lodge/Key Largo Undersea Park, specializing in retail, gear rentals, and reservations as well as providing hands-on support for overnight missions. Her versatility, reliability, and solid work ethic are a tremendous asset to the Jules' Undersea Lodge operation.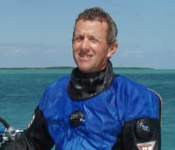 Andy Bohl, Vice President of Operations
Andy is our Vice President of Operations and Dive Gear Specialist here at Jules' Undersea Lodge. He is also a SDI and TDI Instructor trainer, TDI Trimix Instructor, TDI Advanced Wreck Instructor, ERDI Public Safety Diving Instructor, and PADI Master Instructor. While working at KLUP/Jules', Andy started his training to become a Fireman. He is currently working with the Key Largo Fire Department and still maintains his position with us as our DGS and AMD.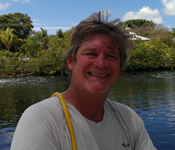 Rick Anderson, Mission Support Specialist
Richard Anderson was raised in a military family in Jacksonville N.C. As a young teen he spent three years in Puerto Rico with his brother who was in the Coast Guard. Upon returning to the United States he graduated from high school in Fort Pierce, Florida, then joined the Air Force where he traveled the U.S. and abroad during his service. Returning to Fort Pierce he accepted a position with Florida Power & Light and other contracted companies where he worked as a lineman and underground power technician for many years. In 2009 he and his wife Sebrina Havens and son Ricky became live-in caretakers on Broad Key, an off-grid island near Key Largo, FL. Upon the sale of Broad Key to the University of Miami, the family moved back to mainland Key Largo. Currently Richard is employed full time with the Monroe County government. As an experienced diver he also works part-time at Jules' Undersea Lodge as an underwater maintenance and mission-support specialist.