Weddings & The Ultimate Romantic Get-away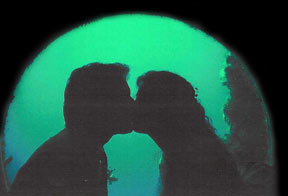 For couples looking for a truly different way to start their married life, Jules' Undersea Lodge offers all of the romance and adventure of an underwater wedding combined with the comfort and convenience of a dry setting. Featured on "Lifestyles of the Rich and Famous" and other major television programs worldwide, the hotel is the first and only in the world to offer weddings and honeymoons at five fathoms! Guests scuba dive to enter the hotel, which has a wet room entrance area, two bedrooms and a common room, which is a combination living room, dining area and kitchen.
The Ultimate Romantic Get-away Underwater Wedding and Honeymoon Package
Weddings in Jules' Undersea Lodge provide exclusive use of the Lodge for an intimate setting for both the wedding and honeymoon. Check-in time is at 1:00 pm, and check-out time is at 11:00 am. Extended underwater honeymoons in the hotel are available.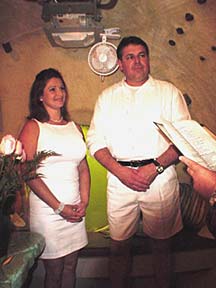 Upon arrival in the world's only underwater hotel, the wedding couple is greeted by romantic music and fresh flowers. The ceremony is usually conducted at 3:00 pm by a notary public, who dives down for the nuptial service. A toast and the cutting of the cake follow the ceremony. Dinner offers a shrimp cocktail  appetizer, a choice of lobster or steak, two hot vegetables, fresh  salad and dessert. The hotel "mer-chef" scuba dives to the hotel to prepare the meal and serve the newlyweds.
The total cost of the package, with the services of the notary public, flowers and a small wedding cake is $1,750.00 plus tax. There is an additional charge of $175.00 per person for extra guests attending the ceremony.
The couple should arrange for their marriage license prior to their arrival by contacting the Monroe County Clerks Office at the Plantation Key Government Center at (305) 852-7145.
Ultimate Romantic Getaway
This package is ideal for two people in love.    Our Ultimate Romanic Package gives you exclusivity of our undersea lodge from a 1:00 p.m. check-in to a 10:00 a.m. check-out.   Fresh flowers and appetizers will greet you when you enter the lodge and you will have your choice of filet mignon or Florida Lobster tail with all the trimmings for your dinner.  If you have specific diet requirements let us know and we'll work with you on preparing an alternative meal.   All dive gear is included in your package. $1,395.00 plus 12.5% tax.
CALL 305.451.2353 with questions or to book your date!