Jules' Undersea Lodge
Guests can stay from three to 24 hours, or more! See our prerequisites information for more detals!We can also host your Special Event!
When guests visit Jules' Undersea Lodge in Key Largo, Florida, they discover that the name is no marketing gimmick. Just to enter the Lodge, one must actually scuba dive 21 feet beneath the surface of the sea. Jules' really is underwater. Diving through the tropical mangrove habitat of the Emerald Lagoon and approaching the world's only underwater hotel is quite an experience. Even from the outside, Jules' big 42 inch round windows cast a warm invitation to come in and stay a while, relax and get to know the underwater world that so few of us have even visited.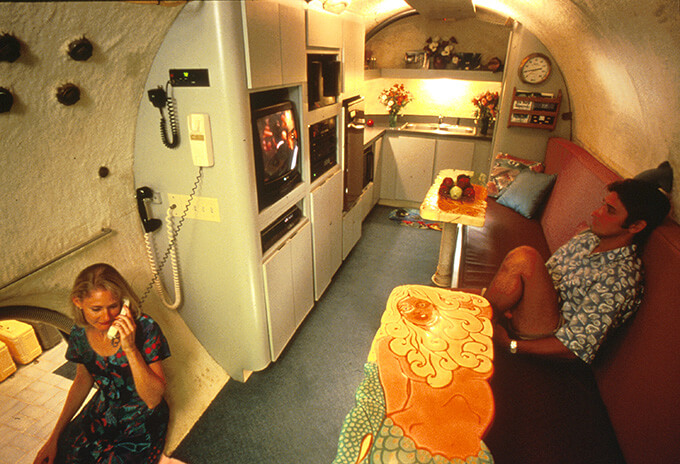 Entering through an opening in the bottom of the habitat, the feeling is much like discovering a secret underwater clubhouse. The cottage sized building isn't short on creature comforts: hot showers, a well stocked kitchen (complete with refrigerator and microwave), books, an Amazon FireStick which offers music and movies on demand. And of course there are cozy beds, where guests snuggle up and watch the fish visit the windows of their favorite underwater "terrarium". Jules' Undersea Lodge manages to reach a perfect balance of relaxation and adventure.
Lunch in Jules' Undersea Lodge
Enjoy a three hour visit to Jules' Undersea Lodge and have a WORLD FAMOUS pizza lunch. If you are not SCUBA certified, you will need to book the Discover SCUBA Diving program as well.
$150.00 per person and includes the lagoon fee.
Two person minimum. Does not include dive gear.
Overnight Stays
Check in: 2:00 PM Check out: 8:30 AM
Jules' Overnight Stay for Couples
Our JUL for TWO package is $850 and includes our world famous pizza delivery dinner. Breakfast is continental style. There's plenty of water, soda, and snacks as well. Dive gear is included in your package.
PRIVACY FEE: You may guarantee total privacy in the Lodge by paying an additional $175. This fee guarantees that no other guests will be booked in the Lodge during your stay. Must be requested when making reservation.
Jules' Standard Program for Dive Buddies (one stateroom)
Same as the JUL for TWO, $850 and includes your pizza dinner and breakfast. Dive buddies can stay in the same stateroom (there are two bunks); if you want to use both staterooms, an additional $175 will be charged. Must be requested when making reservation.
Group Economy Packages
Group of 3-4: $375 per person
Group of 5-6: $325 per person
Add some luxury! Get your choice of lobster or filet mignon, baked potato, vegetable, salad, roll, butter and home made Key Lime Pie for an additional $80 per person.
Prerequisites: To get into Jules' Undersea Lodge, you must be a certified SCUBA diver or take the Discover SCUBA course upon arrival. We accept all current agency certifications (PADI, NAUI, SSI, etc) but you must show proof of certification. If you arrive without a certification card, we must verify your certification with your agency. If we are not able to verify your certification, you will need to take the Discover SCUBA Diving course to continue.
If you are not a certified diver, you can take the Discover SCUBA Diving course for $115. This is not a full Scuba Diving certification, and you must be 12 years old to take the course.  Please note:  Jules' does not recognize any resort course that you may have taken before you arrive at our facility.  The "Resort or Discover Scuba Diving" course is specific to the facility or resort you are established with at the time.  If you are NOT A FULLY CERTIFIED SCUBA DIVER you will have to take our Discover Scuba Diving course when you arrive.
GUIDED DIVES:  $30.00
For more information on restrictions that may be placed upon you before diving, see below:
MEDICAL RESTRICTIONS FOR NON-CERTIFIED DIVERS
Your stay in the underwater lodge is considered a dive and diving places stress on your body; therefore, you need to be in good health in order to dive at Jules' Undersea Lodge.
You cannot take the Discover Scuba course if you:
Are not able to swim
Are pregnant
Have any psychological reasons that would prevent you from diving
Are insulin diabetic
You will need a doctor's release if you:
Have a history of heart disease, heart attack, or heart or blood vessel surgery
Have a history of high blood pressure, angina, or take medication to control blood pressure
Have had chest surgery
Have a history of seizures, dizziness, blackouts or fainting, convulsions or epilepsy, or take medications to prevent them
Have a history of respiratory problems or disease
Have a history of lung disease
Have had emphysema or tuberculosis
Have had a collapsed lung (pneumothorax)
Have a history of ear disease, hearing loss, or problems with balance
Have a history of sinus problems
Have a history of ear or sinus surgery
Have any psychological reasons that would prevent you from diving
Have a history of colostomy (a surgical opening that connects the colon to the surface of the abdomen)
Have diabetes
Have asthma
Have recently had an operation or serious illness
Have a nervous system disorder
Have a history of bleeding or other blood disorders
Are under the care of a physician or have a chronic illness
Are not Scuba certified and over the age of 45 and have a family history of heart attack or stroke
You should seriously consider not diving if you:
Have had difficulty with your ears
Are claustrophobic or have panic attacks
Are currently suffering from a cold or congestion
We will not be able to accommodate non-Scuba certified minors on medications for ADD/ADHD
CANCELLATION POLICY
Because Jules' Undersea Lodge only has two rooms, we must strictly adhere to the following cancellation policy:
Cancellations fourteen days or more prior to reservation will receive a 50% refund of your deposit
NO refund for cancellations within fourteen days prior to reservation
You may reschedule your reservation for a fee of $50 per person
If the reservation must be cancelled due to a hurricane evacuation, you may either reschedule at no cost or receive a full refund.